Preparation: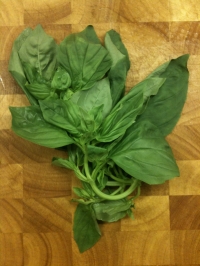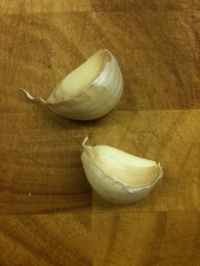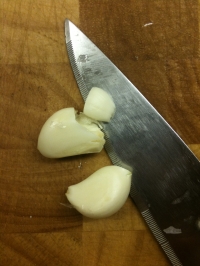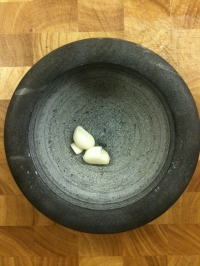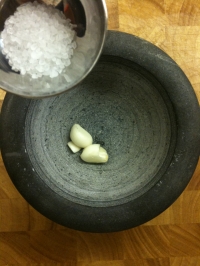 Clean the basil leaves with a clean kitchen cloth without washing them. Peal and crush the 2 garlic cloves and join them with some coarse sea salt in a mortar.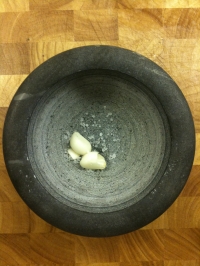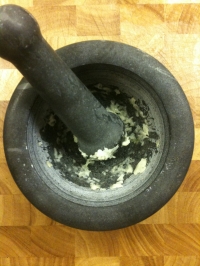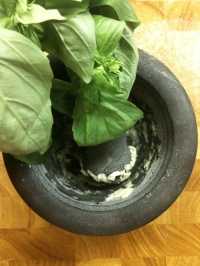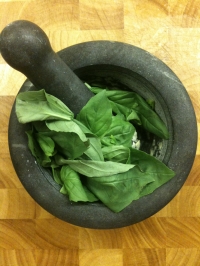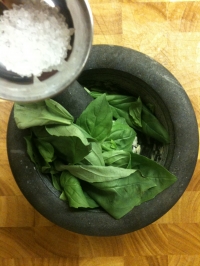 Start pounding with a pestle until the crushed garlic is reduced in a cream. Then, add the 50 gr of basil leaves and another pinch of coarse sea salt which will serve to break up the fibers of the basil leaves and to better maintain a nice bright green color.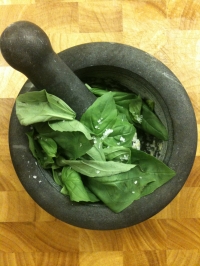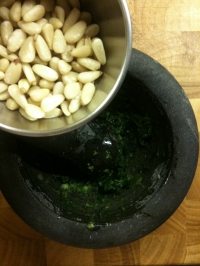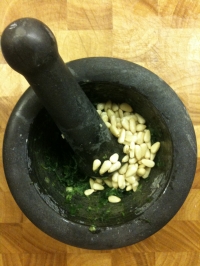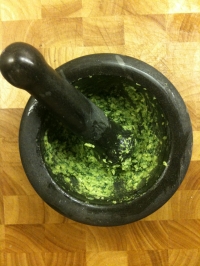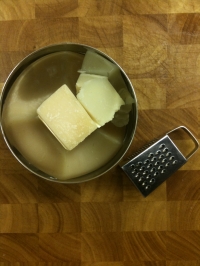 Crush the basil against the walls of the mortar by rotating the pestle from left to right and simultaneously rotating the mortar in the opposite direction. Keep crushing until a bright green liquid will come out of the basil leaves and then add the 50 gr of pine nuts. Continue pounding to reduce in cream. Now, grate the 40 gr of Parmigiano Reggiano and the 40 gr of pecorino sardo cheese.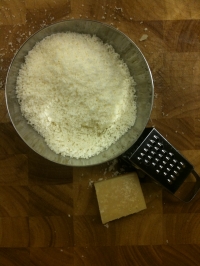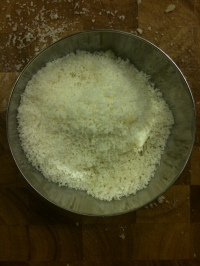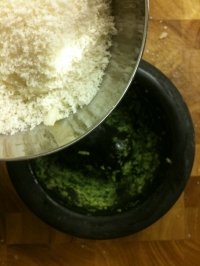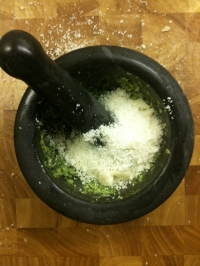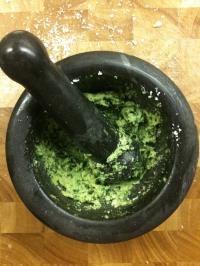 Join the grated cheeses in a bowl and add them little at a time while pounding the Pesto Genovese making it more creamy.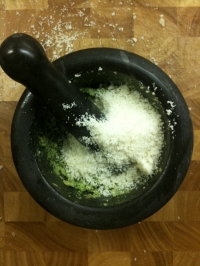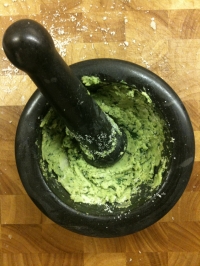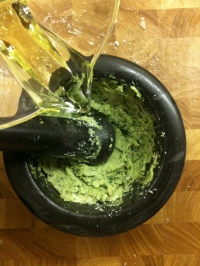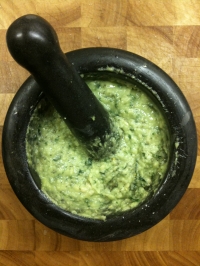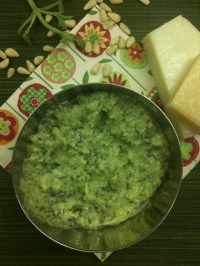 After adding all the grated cheese join the 100 ml of olive oil and blend in all the ingredients. You have now prepared your Pesto Genovese ready to dress your pasta dishes, crunchy bruschetta's or salads with!
Cooking Tips:

The processing of the pesto sauce is carried out as soon as possible and preferably at the moment to avoid oxidation problems such as loss of color and fresh flavor.

If you wish to use the blender it is definitely better to opt for plastic blades, as metal ones actually have the defect to not fully release the flavor from the leaves, making the pesto sauce a more bitter one.

To get a good pesto sauce, make sure the basil leaves are dry, and not wrinkled, since the rupture of vesicles containing essential oils on the upper part of the leaves cause oxidation of the color and flavor.

When using a blender, mix at a lower speed and blend in spurts (blend for a few seconds then stop for a few second and so on), so as to avoid heating due to friction.

Another trick to avoid overheating of the pesto when mixing in the blender is to place the top of the blender and when possibile the blades in the refrigerator an hour before use.

Add more cheese for a more creamier Pesto Genovese.

The use of a mature and sweeter olive oil will bring out the sharp flavor of the garlic and the aroma of the basil leaves.

Ad some chopped pine nuts to the Pesto Genovese for some bite.

You can add more olive oil for a pesto dressing to drizzle over a caprese salad or to flavor slices of bread to accompany your dinner.